Rationale
The high prevalence of depression is a major public concern due to its association with a significant reduction in quality of life.(1-3) Depression, anxiety, atrial fibrillation (AF), cardiovascular disease, and thromboembolic disorders often coexist.(1, 4-6) Studies found that when compared to people without depression, patients with depression have a greater risk of having coronary heart disease (1.7-fold)(7) and stroke(1.5-fold).(8) Also, patients with a prior myocardial infarction (MI) are at 5- and 7-times higher risk of anxiety and depression respectively, compared to people without prior MI.(9) In addition, a study suggested the risk of depression during the first 3 months after stroke is 8-fold higher than those without stroke.(10) Therefore, it is common for patients to receive concurrent anticoagulants and antidepressants.(1)
Warfarin is one of the most widely used anticoagulants(1) and is used to prevent thromboembolism for patients with non-valvular atrial fibrillation, as prophylaxis post-surgery, and in patients with a prior history of thromboembolism.(11) Antidepressant products on the market are typically grouped according to their mechanism of action. These include: selective serotonin reuptake inhibitors (SSRIs), serotonin-norepinephrine reuptake inhibitors (SNRIs), tricyclic antidepressants (TCAs), mirtazapine, and bupropion.(12) SSRIs are one of the most widely used antidepressants,(1) due to their low incidence of side-effects, ease of dosing, safety, tolerability and wide ranges of indications including anxiety disorders, major depression, obsessive-compulsive disorder, and posttraumatic stress disorder.(13-15) Both SSRIs and SNRIs are often prescribed in patients taking warfarin who also have other comorbidities such as major depression, anxiety, and other psychiatric disorders.(11) TCAs also have indications for major depressive disorder and peripheral neuropathies.(11)
Although there are concerns regarding bleeding risks associated with warfarin and antidepressants, only some antidepressants increase the risk of bleeding when given concurrently with warfarin. Thus, prescribers and pharmacists may see irrelevant warnings because of the lack of distinction across the antidepressants with respect to the risk of bleeding.
Algorithm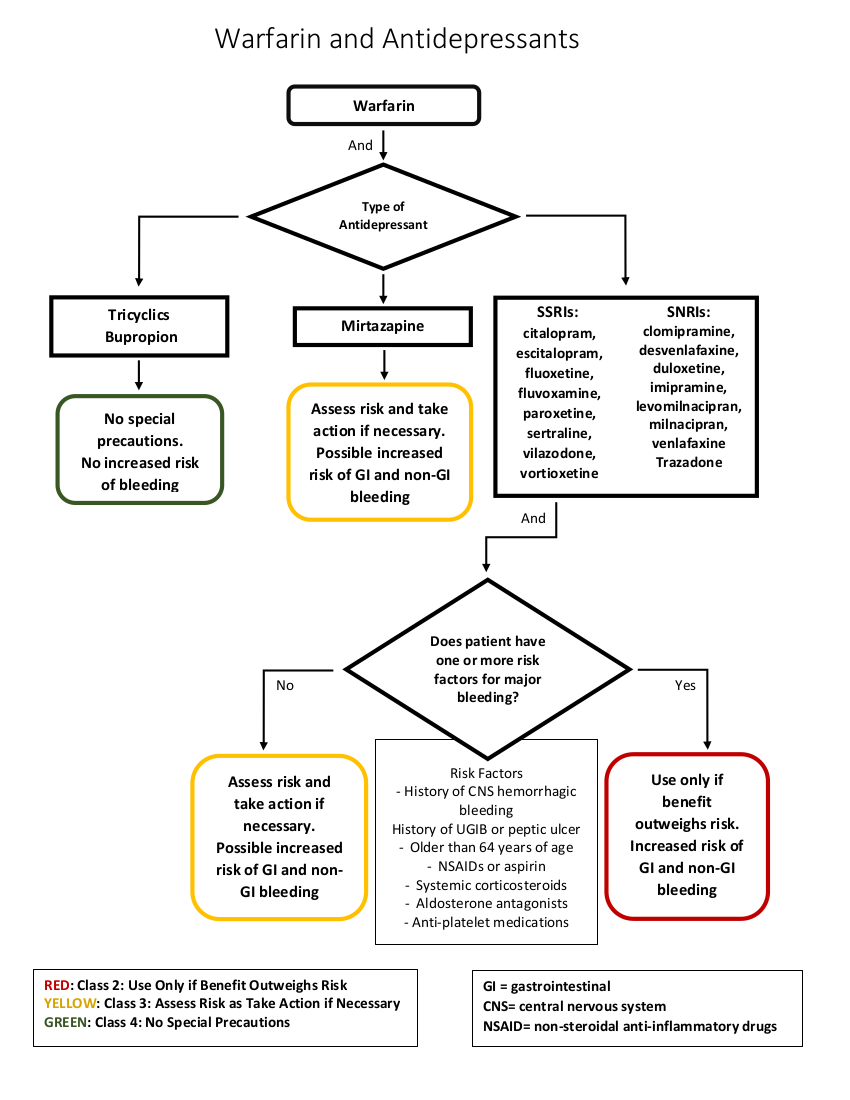 Explanation
Warfarin is a vitamin K antagonist, which competitively inhibits a series of coagulation factors, as well as proteins C and S.(16) These factors are biologically activated by the addition of carboxyl groups depending on vitamin K.(16) Warfarin competitively inhibits this chemical reaction, thus depleting functional vitamin K reserves reducing the synthesis of active coagulation factors.(16)
Bleeding complications of SSRIs treatment could be explained by an impairment of hemostatic response.(13) Serotonin receptors expressed on nerve cells and platelets.(17) Platelets store approximately 99% of the endogenous serotonin,(15)and release serotonin to promote vasoconstriction and platelet aggregation in response to vascular damage.(13) Platelets are not able to synthesize serotonin, therefore inhibiting the uptake of serotonin may lead to decrease serotonin level within the platelets. This can impair platelet secretory response and aggregation leading to increased bleeding.(13-15, 17-22)
Evidence in the literature regarding the association between bleeding and antidepressants is inconsistent, due to variation definitions of bleeding, lack of details concerning which antidepressants were included, and the lack of attention to confounding factors. For example, several case-control studies reported no association between the exposure of SSRIs or other antidepressants and the increased risk of intracerebral hemorrhage or intracranial hemorrhage.(13, 23) Another study reported that the use of SSRIs was associated with increased hemorrhagic and fatal stroke.(24) A systematic review and meta-analysis of 22 observational studies determined the odds for developing upper gastrointestinal bleed (UGIB) were 1.5 (95% CI: 1.35-1.78) times higher in patients taking SSRIs than those had not taken SSRIs.(25) Another meta-analysis of 42 observational studies also reported a 41% increase in the risk of severe bleeding, mainly gastrointestinal (GI), in patients taking SSRIs.(26) Similar findings were observed in a case-control study that showed an increase in the risk of UGIB (1.2-1.9-fold) among past, current, and recent users of SSRIs.(27) Evidence also suggested the bleeding risk may be correlated with potency of serotonin inhibition. High-potency antidepressants were associated with bleeding risk 2-3-fold higher than low-potency agents.(18, 28) Another study found high-potency agents were associated with only slightly increased risk of GI bleeding (RR=1.17, 1.02-1.34) compared to low-potency products.(29)
Some studies suggest that concurrent use of SSRIs and warfarin is not associated with a significant increase in the risk of hospitalization for UGIB,(30) while other studies suggest that the bleeding effects of SSRIs or SNRIs and warfarin could be additive, and duel usage of warfarin and SSRIs or SNRIs was an independent predictor of mortality among patients with primary intracerebral hemorrhage.(20) Several observational studies compared warfarin monotherapy to the dual-use of SSRIs or SNRIs and warfarin. The combined use is associated with a higher risk of various bleeding events including hemorrhage (1.4-fold)(31), GI bleeding (up to 1.7-fold (32), any bleeding event during the 6-month period (2.6-fold)(11), and hospital admission due to bleeding (3.5-fold)(33).
Not all antidepressants have been associated with increased bleeding risk.(11) Evidence suggests that tricyclic antidepressants are unlikely to increase the bleeding risk in patients taking warfarin.(31, 34) Although mirtazapine does effect circulating serotonin, it is not a serotonin reuptake inhibitor.(12) Thus, mirtazapine is not expected to interact with warfarin.(32) Despite one study finding an increase the risk of GI bleeding when combined with warfarin,(32) additional studies are needed to confirm this finding. In addition, bupropion only inhibits the reuptake of dopamine and norepinephrine, not serotonin.(12) Thus, it does not appear to be serotonergic, and would not be expected to increase the bleeding risk by affecting platelets
Precautions
If possible, avoid other medications that can increase bleeding risk (e.g, NSAIDs, aldosterone antagonists, aspirin, glucocorticoid).(35-37)
Other risk factors for GI bleeding include a history of peptic ulcer or GI bleeding and older age.(35) Factors that may increase the risk of brain hemorrhage include hypertension, severe renal disease, alcohol abuse, and cigarette smoking,(38) but the extent to which these factors increased the risk of brain hemorrhage in patients taking warfarin plus antidepressants is not known
Artifacts for implementers
Drug interaction algorithm implementation
Supporting documentation
Webinar on 02/12/20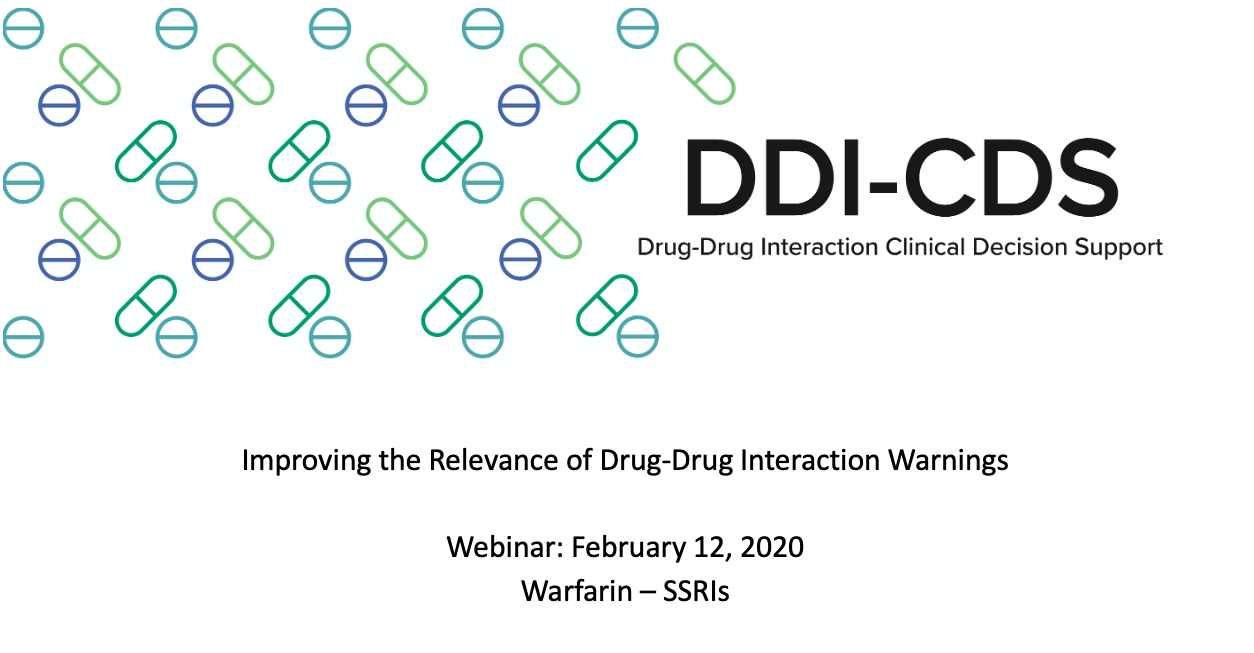 References
Creation and Revision Dates
Created: 11/1/2019
Last revision: 11/1/2019